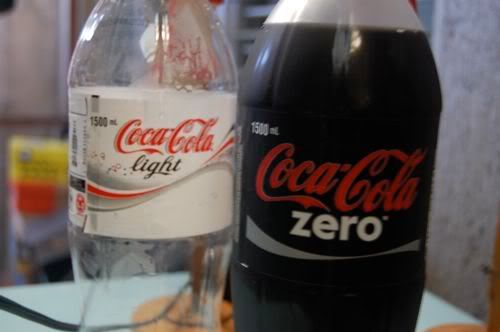 Coke Zero was launched last week with a really huge event at the Fort. My cousin who was one of the agency guys in charge of the event tells me that it is a way for Coke to compete with Pepsi Max, and to get a larger demographic of male "no sugar" Coke drinkers. Statistics as well say that the impression of Coke Light is more of a "ladies choice" than a men's thing. I think this was partly realized after the free Coke Light campaign done in malls such as the Greenbelt 3 in many legs last year.
So really, do you notice a taste difference between the two? I've been buying BOTH for the past week and as a consumer, I really can't care less on which one I get. Here are the top five no sugar soft drinks I buy regularly in order from most preferred to least preferred:
Coke Light / Coke Zero
Sarsi Light
A&W Rootbeer Light
Pepsi Light
Pepsi Max
They say that between Coke Light and Coke Zero, the taste difference kicks in when both drinks are consumed at room temperature. Allegedly, you won't notice the taste difference when both drinks are iced. Of course, doing this is rather gross so I'd rather not experiment on a matter with no great consequence to my current state of affairs 🙂
What you think?