Over the weekend I took part in an event loosely coined as the 'Hunt for the Rhinopias.' As a diver and a photographer, it's the latter that urges me on to keep diving because of the sheer challenge of underwater photography as a hobby. Before taking photos underwater, I'd scoot through a dive site in 45 minutes. When I started photography, our dives turned to a slow crawl as we explored every square inch of the reef to find shrimps, crabs, slugs and other critters.

Our gear on display for the Rhinopias photo hunt.
There was word circulating among the divers that a yellow Rhinopias frondosa, more commonly known as the Weedy Scorpionfish or the Popeye Scorpion has been spotted in a dive site called Red Rocks in Anilao, Batangas. The Rhinopias is extremely rare and there happened to be one in Anilao sitting on the reef at 30 ft deep. At that depth, we spent two dives of 80 minutes each, taking turns to photograph this rare scorpionfish that is camouflaged to look like a yellow patch of sea kelp.

We hired the watchful eyes of Edgar, a dive master who was also a keen spotter for critters to help lead us to the Rhinopias. Fish, like humans are territorial despite the vastness of the ocean. You can dive one site over and over and see the same school of jacks that circle the reef. You can come back every time and watch them grow and multiply.
The boat ride took more than 30 minutes from the resort and we anchored onto the sea bed at a comfortable 30ft deep. At that depth, divers can enjoy more than an hour of SCUBA without suffering from decompression. And down we went. Edgar led us to an area with large rocks decorated with coral and in that small space between two medium sized coral formations, Rhinopias frondosa was there. As if waiting for us.
We took turns photographing the creature. With a total dive time of about 80 minutes, we took turns taking photos of the fish. The money shot of any scorpionfish is being able to photograph it with its mouth fully open. Divers refer to this as the "yawn" which doesn't happen very often. It is hypothesized that the "yawn" is a defense mechanism made when the fish feels threatened. But it could be many other things. Edgar told us that patience is key. Do not agitate the fish else it won't even attempt to open its mouth.
Still can't see it?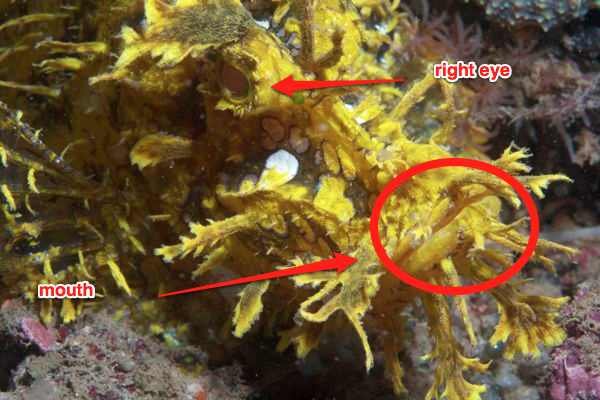 Rhinopias frondosa .. well .. just sat there. It didn't swim away. When we came back for our second dive it was still on the same patch of sand, sitting nonchalantly. Once in a while it would take a leisurely "stroll" but would always stay within the same square meter patch. The fish was less than a foot long. We had to be careful not to touch it as it is poisonous. There was also some added difficulty when a juvenile lionfish decided to hang around the rocks and we had to be careful as these were also poisonous.
The photo above is a close up side view of the lips and the yellow eye.
After I had exhausted two photo shoots with the Rhinopias, I decided to go around searching for other things to photograph. Edgar was a brilliant spotter as he was able to show me the Halgerda batangas — a type of nudibranch that was named by scientist Terrence Gosliner when he dove Anilao. Red Rocks is a nudibranch hotspot.
The Halgerda is characterized by the orange lightning pattern on its mantle. It's a fantastic sight. This particular one was about an inch and a half in length.
I also got to photograph other nudibranchs. Some as small as a grain of rice. Others as big as three inches.
And also, other types of fish like this curious lionfish, a shy clownfish hiding in its anemone home and a camouflaged baby frogfish resting on a coral.
In total we did four dives. Two dives into Red Rocks, another into the pier — which we aborted due to really bad 1 ft visibility and a "make up dive" at Secret Bay so that our remaining 1500 psi won't go to waste. At the end of the day, there's no doubt about it — the one and only Rhinopias frondosa is the most photographed fish in the entire Anilao.
If you want to read the chronicles of the hunt from another perspective, check out Jan Acosta's post from NUDI.